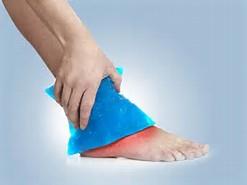 There are many reasons why people get heel pain. The good news is that many heel pain sufferers will be able to find effective heel pain treatment from a foot doctor to help them manage their heel pain problems.
In order to effectively treat heel pain problems, it is first necessary to determine the underlying cause of the foot and heel pain and get a clear diagnosis from an experienced foot doctor. Experienced foot doctors, for example, the team of podiatrists found at Suncoast Podiatry on the Sunshine Coast, understand that foot and heel pain problems have often evolved over time and can reflect lifestyle choices.
To demonstrate this point, our foot doctors at Suncoast Podiatry often identify biomechanical problems that are exacerbated by walking around in bare feet, a phenomenon that is very common with residents on the Sunshine Coast. Sometimes simply supporting the base of the foot with supportive shoes or custom orthotics can provide tremendous relief to Sunshine Coast residents experiencing foot and heel pain.
Many heel and foot pain problems are either caused or exacerbated through overuse. The most common causes of heel pain are plantar fasciitis, Achilles tendonitis and arthritis. Other common causes include stress fracture, pinched nerves or in severe cases osteomyelitis which is an infection of the bone. Factors such as obesity, poorly fitted shoes or repetitive exercise on hard surfaces also increase the risk of foot and heel pain. With so many possible causes of foot and heel pain, it is important to have the condition and cause properly diagnosed by a podiatrist such as those found at any of our Sunshine Coast podiatry clinics.
It is important to listen to your body and seek help at the first sign of pain or discomfort, no matter how trivial the foot pain may seem. Early intervention with simple strategies such as strapping, icing and heating, massage and supportive footwear/orthotics can make a world of difference to your pain level in a relatively short period of time. While you can try these strategies at home, if foot and heel pain persists for more than a couple of weeks, it is generally recommended not to self diagnose the cause of your foot pain. Rather it is best to get an accurate diagnosis from a podiatrist who can then formulate the most suitable treatment plan for you.
Lifestyle modifications can also help treat your foot and heel pain. They could include dietary and exercise changes to reduce the load on your feet and to recondition your feet so they are stronger. If you are diabetic, lifestyle changes will be particularly important as part of your overall management strategy.
If you are experiencing persistent foot pain, please make an appointment to visit one of our experienced podiatrists on the Sunshine Coast. We can do a full assessment for you looking at lifestyle, biomechanics and any relevant medical history. Where indicated we will also refer you for Xrays or other imaging to rule out possible stress fractures or skeletal problems. Once we understand the cause of your foot or heel pain, we can formulate a plan for pain treatment. Your treatment plan will be customised to your particular circumstances. Our team of podiatrists on the Sunshine Coast are committed to reducing pain and improving function for children, adults and athletes alike with individually tailored consultations and treatment plans.
Contact us to arrange an appointment to discuss your foot pain