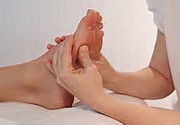 The practice of Foot Mobilisation Techniques (FMT) is manual therapy aimed at improving foot and leg function.
FMT targets joints of the foot and ankle which are in a poor alignment, stiff or dysfunctional and aims to gradually realign and restore the way they move.
This is achieved through a series of 'hands on' treatment sessions, similar to what can be experienced in an osteopathic, chiropractic or physiotherapy setting.
As the foot is a complex unit with many small bones and joints, the practitioner requires highly specialised FMT training so as to isolate the correct joints and with great skill and accuracy, to free these up.
These must be performed in consecutive appointments designated by your podiatrist, so as to prevent the soft tissues (joint capsules, ligaments etc.) from returning to their pathological positions that originally caused the injury or malalignment.
Our podiatrist has invested time and energy into participating in FMT training with arguably the world leading FMT expert in Podiatry, Mr Ted Jedynak.
The aim is to provide an alternative or complementary treatment to orthotics, drugs and surgery for biomechanical conditions.