"Growing pain" is the common term used to describe any type of pain experienced by children in their legs. However, the term "growing pain" has no medical basis. Sometimes "growing pains" resolve as muscle growth and bone growth realign which has led to the misconception that "growing pains" are just a part of the normal growth cycle.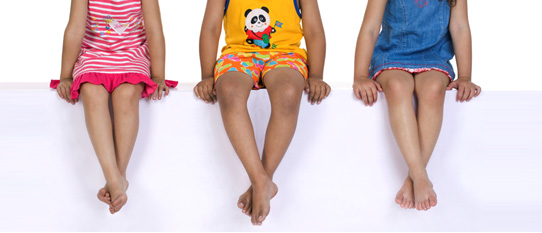 From a clinical point of view, we need to look much deeper to see what is actually at the cause of the "growing pains" and mitigate against your child experiencing unnecessary pain. Podiatrists can diagnose the cause of "growing pains" and formulate effective treatment plans so your child does not have to suffer.
When children present to a paediatric podiatrist, it is not uncommon for parents to report that their children have been experiencing pain for as much as 2 years and they delayed investigating the pain hoping their child would just grow out of it. Children's podiatrists are very experienced in looking at the underlying causes for foot pain, heel pain, leg pain and knee pain and developing treatment plans to treat sore feet, sore heels, sore legs and sore knees.
Kids podiatrists will examine your child to identify any musculoskeletal imbalance or problems with foot mechanics. As the foot is the base for the whole body, your children's podiatrist will also examine the type of shoes your child wears to ensure they have adequate support and the foot is well aligned. A combination of correct footwear and custom orthotics can address the biomechanical imbalance of the lower limbs, helping to resolve pain and improve function. Your children's podiatrist will be able to give you some recommendations around the best type of footwear for your child.
External causes such as poor posture, sitting at a desk or on devices, using an inappropriate school bag
and excessive training loads on growing bodies will also be examined. Your children's podiatrist may recommend a series of exercises as well as using custom orthotics to help resolve the problem.
Many biomechanical problems are apparent from quite an early age. The earlier treatment for these conditions begins, the less your child will experience "growing pains." Early treatment is key to the best outcomes. Our podiatrists on the Sunshine Coast understand that children do not want to wear shoes all the time, especially in the hot summer or at the beach on the Sunshine Coast. Nor do they want to wear corrective splints. Addressing the problem early before children start to object too much and getting them into good habits goes a long way in preventing "growing pains" through childhood.
Not everyone likes the idea of going to see a paediatric podiatrist. We don't like to think there is anything wrong with our children or admit that we have inadvertently caused them suffering by not seeking treatment sooner. There is no need to feel this way. Kid's podiatrists have years of training and do not expect you to have all the medical knowledge they do. So trust your gut instinct and watch out for warning signs such as complaints about pain, cramping, delays in walking or requests to massage legs and feet. As parents, your gut instinct will tell you when to seek help.
So yes, podiatrists do treat "growing pains" and we would love to help relieve your child's pain.
Suncoast Podiatry has clinics right across the Sunshine Coast which makes us easy to find. If you are worried give us a call and we can go from there …….
Noosa
35 Thomas Street
Noosaville Qld 4566
Tel: (07) 5474 4070
Cooroy
14 Diamond Street
Cooroy Qld 4563
Tel: (07) 5442 6200
Bli Bli
Bli Bli Village, Shop 2K
Level 3, 308 David Low Way
Bli Bli Qld 4560
Tel: (07) 5448 4920
Gympie
62 Channon Street
Gympie Qld 4570
Tel: (07) 5483 7881